Paintings & Prints
We principally showcase original paintings & prints by artists from Lancashire and surrounding counties.
Paintings
Janet Mary Robinson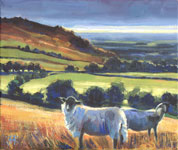 Janet Mary Robinson is a painter and natural history illustrator. Her love of nature and art inspired her to study Scientific and Natural History Illustration at Blackpool & the Fylde School of Art. Since graduating with distinction in 2004 she has worked as a freelance artist and a natural history illustrator, based near Lancaster. This beautiful area of NW England forms the inspiration for many of her paintings. "My chief passion is nature; and much of my work is in response to wildlife or wild places. The majority of my paintings are in acrylic, which I love for its sheer adaptability." Janet is in Artroom Gallery most Mondays and is happy to discuss doing commissioned specific paintings of particular landscapes, animals or pets.
Pat Ellacott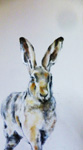 Prodigiously talented artist from Lancashire. Draws using charcoal & pastels. Captures the essence and character of animals including cows, sheep, goats and rare breeds. Commissions on request.)
Textile Art Picture
Tania Sneesby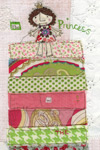 Pictures made from Textiles – each a one off. Humpty Dumpty, Princess & the Pea, Rapunzel, Jack & the Beanstalk, The Owl & the Pussy Cat... Other stories on request. Special names added or illustrated.
Jo Hill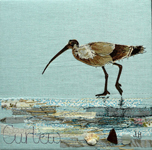 Jo is a textile artist from Stone who creates charming pictures of a variety of birds, hens & hares from her garden studio. She displays a flare for design combined with the skills to incorporate different colours and textures of fabrics to achieve the desired effects. In addition to appliqué she uses hand & machine stitching to add interesting details.
Prints
Nolon Stacey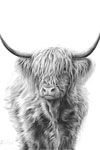 Nolon Stacey is a self-taught pencil artist from Yorkshire specialising in drawings of British wildlife, rural scenery, and farm animals. Nolon acquired the methods he uses through years of trial and error. Each drawing can take anywhere from 50 to 100 hours to complete. His approach is to achieve detailed realism while giving life to his subjects. Without the use of colour, working solely with a pencil forces you to concentrate on the tone, the texture and the contrast of a piece, making it a deceptively complicated discipline. Nolons main aim is to impart life and character into his subjects, rather than simply produce a detailed study.
Tracy Levine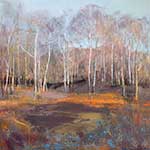 Tracy Levine is a painter and printmaker who works from her studio in the South Lakes area of Cumbria. Her studio is located in the Area of Outstanding Natural Beauty (AONB) of Arnside and Silverdale, with stunning views over the Kent Estuary to the hills of the Lake District. It is this wonderful landscape that is the perfect source of inspiration for much of her work. Tracy Levine's contemporary paintings are mainly produced in acrylic and mixed media. Tracy has won several awards including first prize in the Cumbria Open 2009, and the Peter Tyson painting award at The Lake Artists Annual exhibition 2011.
Graham Lowe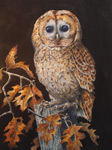 Graham is a well-known artist who works from his studio in Lancaster. His latest work comprises 20 British bird paintings, "Birds are so diverse in shape, colouring, markings and expression. As an artist I love the challenge that each bird presents"
Andy English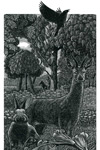 Exquisitely detailed wood engravings made in a traditional manner using wood blocks & an old Victorian press by Andy English from Ely. Andy was born in the Fenland region and still lives there. This area and its wildlife inspire him. Other themes that he has followed over the years are gardens and childhood. His work is unashamedly rural, autobiographical and traditional.
Sonia Rollo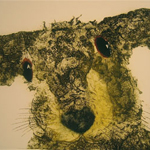 Sonia was educated at Glasgow University, graduating with a B.Sc. in agricultural botany. She worked in scientific publishing as editor of Chemoreception Abstracts. In 1988 she started studying printmaking at Morley College. She is a founder member of Half Moon Printmakers, a member of the cooperative Southbank Printmakers and a past vice-chair of the Printmakers' Council. Training as a biologist meant, observing plants and animals, drawing them to aid understanding. But now she can have fun with her drawings and making them into etchings.
Clive Huntington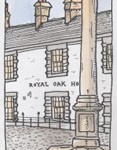 From Lancaster produces paintings and prints of local Lancashire scenes including Garstang.
Patricia Haskey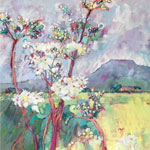 Wild Honeysuckle Ingleborough - Prints of Originals. Enquiry in gallery for originals available.
Linda Lovatt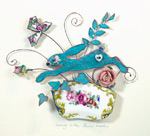 Linda Lovatt comes from a family of engineers & has always enjoyed metal working of all types. This together with her love of early Folk Art and French automata inspired her to create distinctive quirky assemblages. Working from her studio in Jedburgh pieces are made from soldered copper, chemical verdigris and fragments of the past. Pretty chipped cups, shells, lonely saucers and redundant keys from charity and antique shops are added to make a Beastie Assemblage which could be a leaping or moon gazing hare; a chirpy bird on a key amongst pretty flowers.
Alison Read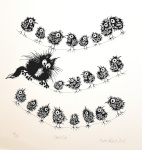 Alison Read is a skilled print maker who hand makes original prints using a variety of methods; Screen prints, Etchings Aquatint and Linocuts. Whist studying for her BA in Fine Art at Newcastle University, she was one of several Northern graduates chosen to exhibit in the Royal College of Art. She now lives and works in Lincoln. Her popular quirky prints depict a wide range of animals including birds, cats, dogs, otters, hares...with insightful, humorous and sympathetic character detail, often in highly amusing situations.
Wall Plaques